It is a question that many of us have struggled with. What to pack for an overseas work trip?
For Rishi Sunak and his wife Akshata Murty's visit to the G7 summit in Japan, the conundrum runs much deeper than whether they should share a suitcase.
The duo may not have had to grapple with a limited baggage allowance, but as one of Britain's wealthiest couples, and with everything they say as well as wear scrutinised, they do need to get a careful grip on the optics surrounding their fashion choices.
Murty, who has until recently kept a low public profile, seems to be using the trip to showcase a new pragmatic approach to dressing.
Gone are the £590 designer slippers and £1,650 Valentino leather coats. In their place, a range of labels, many from British brands.
Descending the steps of a British Airways plane as the couple landed in Tokyo, Murty wore two British brands, a £275 bright pink cashmere top from Chinti & Parker and neon green tailored trousers from Me+Em.
Later, boarding a plane to travel to Hiroshima, she was pictured in a £675 sage coloured dress from the British brand Joseph, and carried a £375 mini bag from the Edinburgh-based brand Strathberry.
Sunak appears to be sticking to his uniform of neat suiting, crisp white shirts and primary coloured ties. The Prada footwear is still there, too. However, this is also a carefully considered choice. Last August, at a Tory hustings in Darlington he was accused of "deliberately dressing down" when he wore shoes with a visible hole in the sole. Much safer this time around to stick to his tried and tested designer pieces and employ a cost per wear approach.
There is a fine line between relatability and cosplay, which explains why we've seen Murty, a billionaire heiress, in an £85 blouse from Boden and £150 midi skirt from the French it-brand Sézane but have yet to see her in something from M&S.
Fashion insiders say Murty's new power-dressing approach has been deployed after advice from the fashion consultant Isabel Spearman.
Spearman was previously employed as a special adviser to Samantha Cameron during her husband's tenure at 10 Downing Street.
While Spearman hasn't confirmed her involvement, Murty's new arsenal of high/low brands is a strategy Cameron also embraced, with a wardrobe spanning Zara to Burberry.
It's an approach adopted by other political spouses, too. Michelle Obama regularly wore high-street brands such as J.Crew alongside designer labels such as Alexander McQueen, while Carrie Johnson rented much of her designer wardrobe.
Murty has a natural interest in fashion, too, having previously helmed her own label, Akshata. "Ever since I was a little girl, I have always loved clothes," she told Vogue India in 2011. "My mother, a no-nonsense engineer, was always baffled why I would spend so much time creating different outfits from my wardrobe."
So far, the brands Murty has chosen have reported a surge in demand. Her Rixo dress is sold out, while the Shropshire based-designer Claire Mischevani, who created Murty's blue coronation dress, has had to add a disclaimer to her website, warning of delayed deliveries due to unprecedented orders. However, it's Sunak who has caused the first item from a Japanese brand to sell out.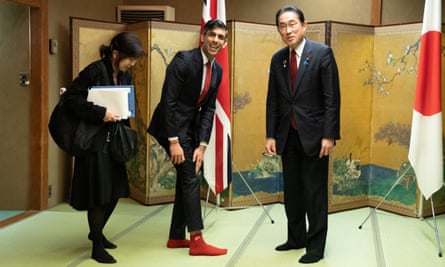 On Thursday night, removing his shoes before a dinner with Fumio Kishida, the Japanese prime minister, as is customary in Japan, Sunak drew attention to his red socks emblazoned with the Hiroshima Toyo Carp logo, Kishida's favourite baseball team.
From a local shop in Hiroshima, they cost £8. After the pictures emerged the socks sold out in the red colour, both online and in-store.