Picture a waistcoat, that longstanding fixture of formal attire, and poof! … images of portly magicians straining their buttons are conjured in the mind. Once a statement of refined dressing, the buttoned vest's status has been diminished over the decades by illusionists, snooker players and eccentric members of the House of Lords.
But thanks to a new generation of devotees, the waistcoat is enjoying a comeback. The fashion forward England manager, Gareth Southgate, led his team to the World Cup semi-finals in 2018 sporting an M&S version and now, thanks to cultural icons such as Taylor Swift and Sarah Snook's Shiv from Succession, sleeveless formalwear is the go-to office look of the summer.
As modelled by Southgate, it is being worn with matching trousers. Termed the half suit, it ditches the blazer. Unlike Southgate, the look involves a wider trouser leg instead of the traditional tapered style.
Searches for waistcoats are up 300% at John Lewis, while an oatmeal linen version from M&S has sold out. Sherbet pink, moss green and charcoal sets are in high demand online at John Lewis, with the majority of sizes from a UK 6 to 18 sold out.
Part of its appeal, says Virginia Seymour, the director of the British brand Aligne, is a reaction to the casualisation of the pandemic.
"At the start of 2020 there was a casual loungewear moment," she says. The half suit sits somewhere between coordinated office wear and something more casual. "After lockdown came floral dresses and white trainers. Now people want pieces with more structure." Aligne's white and black pinstripe matching set is proving most popular.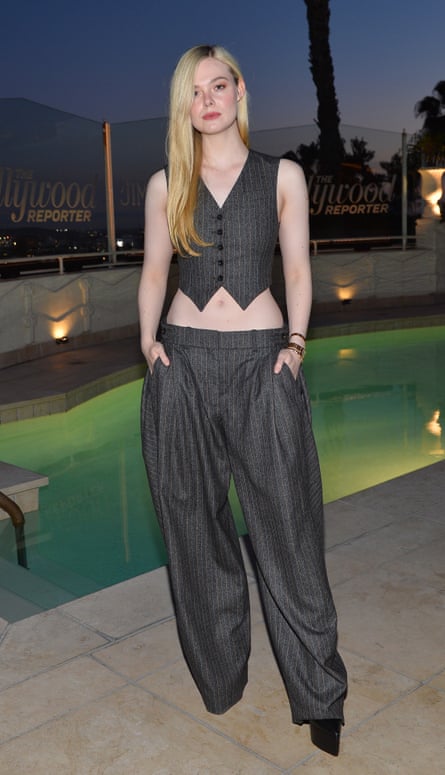 Until recently, the combination of a blazer, trousers and trainers was a well-trod fashion formula. Swapping the blazer for a waistcoat moves the trend along. "It has a bit more of a girl-meets-boy feel about it. It shows off a bit more skin," says Seymour.
For more formal meetings, taking a leaf out of Annie Hall's book, the waistcoat tends to be worn over a blouse. Among younger wearers such as Zendaya, it's bare arms.
On the Stella McCartney spring-summer runway, models wore neatly fitted waistcoats with low slung trousers, while for a Hollywood Reporter magazine dinner in March the actor Elle Fanning teamed a grey cropped waistcoat with billowing trousers.
The British brand Albaray first launched a honey-coloured cotton set in February and after high demand this month added a black linen version. Albaray's co-founder, Karen Peacock, says it is selling more waistcoats as standalone pieces with customers styling them with trousers they already own.
"Our customers want things that they can style in different ways and to create different outfits," she says. "Separates allow you to do this."
If this feels like another flash-in-the-pan trend, the fast fashion site Asos and the luxury e-tailer MatchesFashion suggest otherwise. Expect to see waistcoats paired with shorts for high summer and come autumn denim waistcoats with jeans. Aligne's next drop includes several waistcoats with matching midi-skirts.
The waistcoat has always been a fixture of menswear. As to whether the women's England manager, Sarina Wiegman, will take up the waistcoat mantle from Southgate and wear it on the sidelines of the Women's World Cup in July, it seems unlikely. Wiegman went for a white shirt and a black blazer during her team's cup-winning Euros campaign. Strictly business.