I was on a second date in a dimly lit Italian restaurant in Brooklyn when one of my false nails flew off my left hand and settled into my ravioli. We were one drink in and mid- conversation when I rested the hand in question on my knee, using the other to stealthily bury the evidence. After a short pause, the conversation continued, awkwardly moving on to siblings. Had he noticed? Was the lighting that soft?
This was the aesthetic blip I'd been dreading. The unexpected flinging-of-nail moment that had sworn so many people before me off press-ons; the date equivalent of Janet Jackson's Super Bowl nip slip. My nail bed was a sorry sight: short and scuffed next to pristine, almond-shaped French tips. I'd quite literally been exposed. My false nails had been a safety blanket for my hands. They ensured I looked put together and polished. And they gave me edge, silently declaring that I was, as per a nail polish ad painted by Salvador Dalí that features beautifully manicured hands, the Portrait of a Passionate Woman.
Mine was not an effortless look. I hadn't woken up like this: my hair had been blown out; my folds neatly tucked away; the natural shape of my eyes manipulated with winged eyeliner. The naked nail reminded me of all that lay beneath; it revealed my existential dread – and my battered cuticle.
That said, as a resourceful Lebanese woman, I was prepared. I'd made a habit of stealthily carrying around a set of nails in my purse, along with nail glue. I politely excused myself and hurriedly applied a new nail. There was no nightcap; I never saw the man again. To this day, I wonder if my mishap is a story he tells his mates. Unfortunate date anecdotes aside, nails are important. They are signifiers of our vanity and our insecurities, of self-expression and creativity, and even of violence and aggression. Nails are a site of politics and paranoia and of the convergence between class and culture and, currently, they are the subject of a news story causing anxiety across the salons and offices of Britain.
Before exploring the world of press-on nails, which I indulged in during the early months of the pandemic, when beauty salons had shuttered, I was a gel-advocate. Gel nail polish can last for up to three weeks at a time without peeling or chipping; vintage nail polish isn't nearly as durable and seemed to me to be a thing of the cuticle community's past. So, every month, I'd head to my local, experimenting with a multitude of colours. I ignored the weird tingly feeling or shots of pain while the varnish dried in 30-second intervals under an ultraviolet light machine. Beauty is suffering, I'd think to myself as I handed over my £30.
A study in Nature Communications in January found that exposure to UV light via nail dryers can cause mutations in DNA and damage to cells that may lead to cancer. These machines are essentially mini sun-tanning beds for your hands – UV light penetrates deep into the dermis; gel nail dryers use 340 to 395 nanometers of light, compared with 280 to 400 in tanning beds.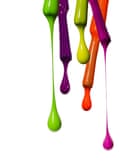 The intensity of the exposure continues to be a cause for concern, according to Dr Julia Curtis of the University of Utah's dermatology department. "In a short period, the nails and skin are exposed to UV light commensurate with an eight-hour day in the sun," she tells me. One way to avoid this would be to avoid having your nails painted altogether, but tell that to someone like Cardi B, who wore impossibly long silver acrylics while completing community service in February. The rapper last year even posted a tutorial on how to change nappies without spoiling one's manicure.
Last month, the UK Office for Product Safety and Standards said it was investigating life-altering allergies caused by gel and acrylics, a worrying trend that Curtis has also observed. If gel polish isn't sufficiently cured, methacrylates can leak into the skin and cause irritation. People can then become sensitive to materials containing acrylates; for some, this has meant they can't have certain medical treatments, such as joint replacement surgery, or take specific medications, including for diabetes.
"We frequently see people with allergic contact dermatitis to acrylics and gel nails," Curtis says. The allergies manifest as a rash and peeling around the fingertips; some even experience eyelid dermatitis due to rubbing their faces with their manicured hands. "There are times where I try to engage my patients' vanity by telling them the short-term benefits of looking good aren't worth it," she adds. "It's not just cancer and wrinkles that people should consider, but also pigment changes, skin thinning and lesions."
After moving to New York from London in 2021, I entered a new era of nail exploration and grooming habits. Acrylics and false nails are seemingly more common among millennials and zoomers in America, where salons prize speed over luxury. New Yorkers prefer longer nails, with elaborate art, while Londoners are generally lower-key with their manicures. And so I graduated from gel and press-ons to acrylics, which were far bolder and usually also involved exposure to UV light.
I hadn't realised the long-term damage these machines could cause until I stumbled upon a beauty influencer's TikTok that advised people getting gel manicures to use sunblock on their fingers to prevent hand wrinkles. More serious potential ailments weren't mentioned. DNA mutations? Bad. Wrinkled hands? Worse.
"I wear sunscreen on my hands when I get my nails done," says Chelsea Asher, 31, a Brighton-based tech worker. While she understands there may still be some risks when getting manicures, even with sunscreen, she's undeterred, as to her, the rewards of a fresh set go far beyond the physical. "As a woman with alopecia, having beautiful nails is affirming for me when it comes to my femininity," she says. "Getting my nails done means an uninterrupted hour of me-time."
Growing up in an unstable political and socioeconomic environment in Lebanon, which was constantly on the brink of collapse, I personally treated grooming and dressing up as the highest form of self-care. (In Lebanon, many women feel pressured to keep up appearances, even if all about them is falling apart; it's not uncommon to hear unwelcome comments about one's weight when being greeted). I started getting manicures and my eyebrows shaped at just 14; if my eyes were without kohl, or my nails without lacquer, something was surely amiss in my personal life.
Over the centuries, across cultures and continents, nail painting has been integral to beautification. Ancient Babylonians created the first manicure set: its tools were made from gold, male warriors in the region were said to paint their nails before combat to startle their enemies. Ancient Egyptians dipped their fingertips in henna and gilded their nails. Henna was also used to embellish nails in ancient China. Later, men and women of the Ming dynasty prettified their nails by soaking them in a mixture of wax, natural dyes, egg whites and other materials. Kathakali dancers in the Indian state of Kerala still use metallics for long, curved artificial nails, which can be several inches long and tend to be curved; their striking presentation is particularly important as basic hand gestures in kathakali, known as mudras, assist with storytelling.
During Persia's Qajar period, court women incorporated nail painting into their self-care routines. They applied henna to their nails and sormeh (a form of eyeliner) along their eyelashes. Though nail decoration originated in the east, nail polish as we know it today is thought to be a western invention – entrepreneurs began to experiment with the lacquer used for car paint in the 1920s. Cutex and Glazo were likely the first cosmetics companies to sell coloured liquid nail varnish, in a shade of pink, Suzanne E Shapiro writes in her book Nails: The Story of the Modern Manicure.
"Tremendously smart. The irresistible flutter of bright, rose-lit finger tips," professed a 1927 Cutex ad, which featured a woman flaunting her tinted nails while smoking a cigarette. "Can be used without fear of injury to the nails," the company declared. Incidentally, early formulations of nail polish were made with high levels of nitrocellulose, a potentiallyflammable ingredient initially developed as a military explosive.
Manicures sit at the intersection of class, gender, power, and race; nail polish is far more than makeup – it can be political. In communities of colour, wearing false nails with exaggerated designs can signify a rejection of Eurocentric beauty norms and a celebration of one's ethnic identity. Women of colour are often judged differently for how they present: a white woman with manicured hands may be seen as trendy, while a Black or brown woman may be seen as transgressive. Sonia Sotomayor, the first Latin American justice in the US supreme court, was advised by the White House to keep her nail colour neutral for her confirmation; at a reception marking her appointment though, she defiantly wore fire-engine red nails. People took to Twitter to praise and critique her. "Good for her," read one post, "she's staying true to herself in a man's world."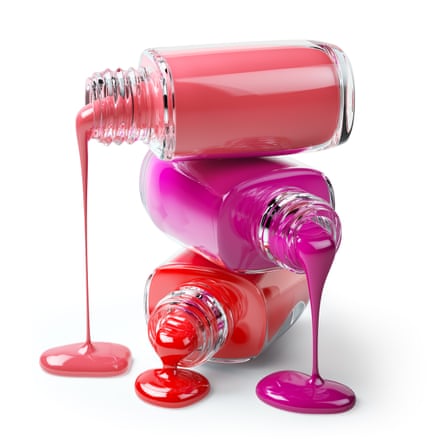 Kylie Jenner helped popularise acrylics among white women, regularly showing off her tips on Instagram (there are currently 213m Instagram posts with the hashtag #nails). Nail decoration, as such, isn't immune to cultural appropriation; though white women are now wearing acrylics in abundance, long, curved false nails have historically been central to Black culture. In an essay for The Cut, Tembe Denton-Hurst reflects on how she had for years worried that wearing acrylics might "signal something about me I didn't want to communicate: that I was 'ghetto', 'loud', or didn't fit in." Denton-Hurst's feelings shed light on the range of reverberations stemming out of white supremacy, from systemic racism and discrimination to cultural erasure and socioeconomic imbalances.
To Desire Thompson, 33, a Brooklyn-based writer, manicures represented a coming-of-age and a celebration of her Black ancestry. At 14, she started going to Dominican salons for acrylics. "My best friend wore acrylics. She opened me up to the next level of girlhood and femininity. Getting ridiculously long nails was the equivalent of me coming out as a fly girl." While Thompson avoids acrylics these days, she still occasionally gets gel manicures. "My nails are a good representation of what I feel about myself. It's as if I'm putting heels on my nails when I get them done, like I'm dressing up my fingers."
Manicures can also be an act of defiance. In Iran, women have viewed their appearance as an opportunity for civil disobedience. Following 1979's Islamic Revolution, women rebelled against newly imposed restrictions by exposing some hair under their scarves, wearing lipstick, flaunting bright colours and getting manicures. "When the authorities were overbearing in the 1990s and 2000s and hassled women for their appearance, especially going into universities or government offices, they fixated on nail polish and lipstick," says author Azadeh Moaveni. Iranian women continue to push back on restrictions by using their aesthetics as a tool. In the photo of Mahsa Amini that went viral following her death while in police custody in September 2022, the 22-year-old Kurdish-Iranian woman has her lips and nails painted burgundy. In the months following Amini's death, millions took to the streets demanding reform and chanting "Woman, Life, Freedom."
As I came of age in Lebanon, I was expected by my family to be demure; some conservative Muslims frown upon nail polish or excessive makeup. "Is God punishing me for my transgressions?" I pondered after I broke one of my acrylics on a train in late 2021 and felt a pang of pain that was so pronounced I almost fainted. I'd been taught that eliciting male attention by beautifying oneself implied a form of lustful vanity, which would inevitably lead to sinful behaviour. I lay down on three seats and read a dua, or prayer, until I gathered myself. When someone asked me what was wrong, I fumbled and said I'd fallen over, too embarrassed to say I'd succumbed to a broken nail.
To me and my sister, manicures feel like a kind of therapy. While making ourselves up may have started as a small rebellious act, it became a form of self-preservation. Throughout my struggles with anxiety, depression and even body dysmorphia, I've consistently turned to nail art and my trusty kohl. If my nails could speak, they would tell you the opposite of my mood. The more serious the turmoil in Lebanon and the more cataclysmic the news updates, the brighter my manicures. The deeper my guilt for living away from my parents and home country, the more daring my nail patterns. Following difficult breakups you can find me at the nail salon, oversharing details about my situationships with my manicurist as she casually eases my heartbreak with each stroke of colour.
Perhaps these pinks and sparkles are a silly distraction from more serious matters, but they bring me moments of joy. As for the risks, I've dabbled in nail stickers, regular varnish and dip powder nails, which involve minimal UV light exposure. I also drench my hands in SPF 50 before heading to the salon. These "heels for my nails" might give me intermittent pain, but it's a pain I'm willing to endure. In Arabic, we have a proverb that roughly translates to: "She who wants pretty things should not complain."
Eyeliner: A Cultural History by Zahra Hankir will be published by Harvill Secker and Penguin Books in November