I designed this coat early in my career – I think it was around 1969. I'd wanted to design something that's lovely to wear and feels fabulous – and it does feel fabulous. It has one of my prints on the suede collar, and the suede has a scalloped edge with little holes punched out, so it looks rather lace-like. I think coloured shearling is very cheery, though it could have been done in a gorgeous black or a natural colour, which would have looked quite hippy-ish for those days. All these years later, it's not falling apart so it must have been made incredibly well.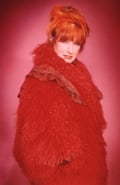 This was a sample piece and they would have made several, though I don't know how many. I don't think I gave it a name – now, I just call it my fabulous red coat. I can't remember how much it was sold for, but it would probably seem ridiculously cheap now. I do occasionally still have people getting in touch who bought my designs, asking me to value them or for advice on how they can get them mended or cleaned, but I've never seen another one of these coats.
It's a lovely warm woolly coat and I would have worn it to look smart around town and around New York, with high boots in those days. At first, I wore it for special occasions, but as time went by, I wore it anywhere, especially if it was very cold. I lived and died in it. If you look at it closely, you'll see it could do with a severe clean and I've got a feeling the pockets have got holes in them.
I'm a hoarder and at the moment I'm cataloguing the vast collection of clothes that I've saved – it's nice seeing things and being reinspired. I seriously believe that we shouldn't change our wardrobe all the time. I don't throw things away; they become more loved.
I still wear this coat. It makes me feel quite special, and one does try to feel glamorous – that helps you face the day, and colour always cheers me up.